Newsletter_feb_2012
February, 2012 - Newsletter
"Altering so much as a molecule of one of the greatest art
installations I have ever seen would be an aesthetic crime."
                                                        Peter Schjeldahl, art critic, The New Yorker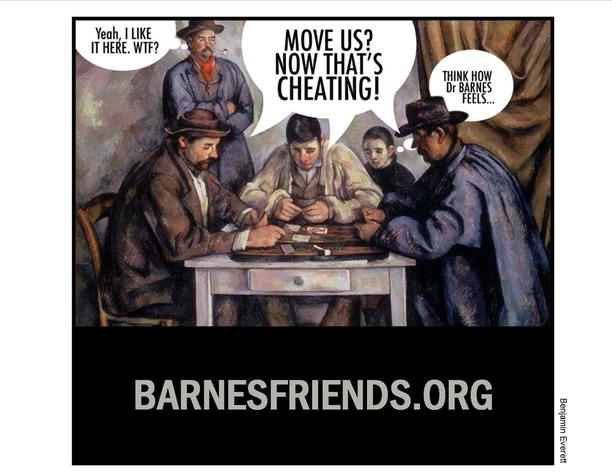 Dear Friends,


Because of you, our group has had tremendous growth and encouragement that continues every day. We thank you for supporting our efforts. If you have suggestions or thoughts you would like to share, please contact us at barnesfriends@comcast.net

The following is a brief update about the on-going legal battle. For more information, please visit our website at www.barnesfriends.org

Friends of the Barnes Foundation


---
Things YOU can do to help:

Spread the word. Talk to people about what is going on.

Share this and other information on Facebook, Twitter, etc.

Urge journalists to write about the Barnes fiasco. Most people are uninformed.
Urge people to see "The Art of the Steal" (available on Netflix)
Make a

financial contribution

. It is tax-deductible and all donations go toward direct expenses like printing, website maintenance, and legal expenses.

---
The Current Court Case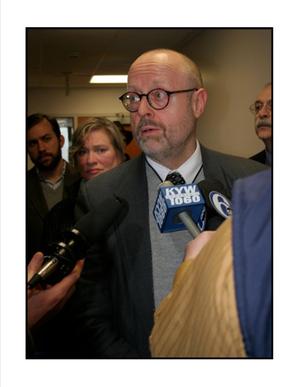 Our attorney, Samuel C. Stretton, filed a
Petition
with Montgomery County Orphans' Court in February 2011,
bringing new evidence before the Court about the improper role and conflict of interest of the Pennsylvania Attorney General.
The PA Attorney General actively worked toward moving the Barnes art collection to Philadelphia and never presented evidence that the Barnes Foundation in Merion was a financially sustainable Pennsylvania cultural asset of immense historic importance.
A
Hearing
was held in March 2011 and
Oral Arguments
were heard in August 2011.
Learn more.
---
Judge's Opinion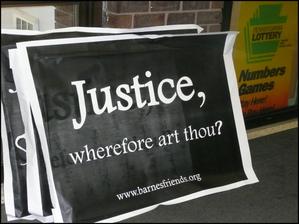 In October 2011, Judge Ott issued an
Opinion
denying the Friends legal standing, but NOT addressing the core issue of the improper role and conflict of interest on the part of the Pennsylvania Attorney General in the case.
In addition, Judge Ott included
Sanctions
against the Friends to pay part of the Barnes Foundation's legal fees and expenses. This is like imposing a fine as if we had misused the legal system. Mr. Stretton filed
Objections to Sanctions
and asked for a Hearing.
Learn more
.
---
A Hearing on the Sanctions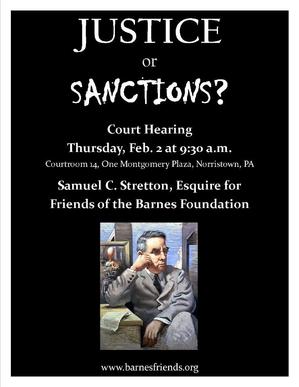 On February 2, 2012, a
Hearing
was held
on the Sanctions. Mr. Stretton argued that there is no basis for Sanctions against the Friends and they should be dropped.
Learn more.


Appeal
An Appeal to a higher Court can be filed only after Judge Ott issues a Final Opinion on the Friends' Petition, including a decision on the Sanctions. He did not say when he will rule.
www.barnesfriends.org
---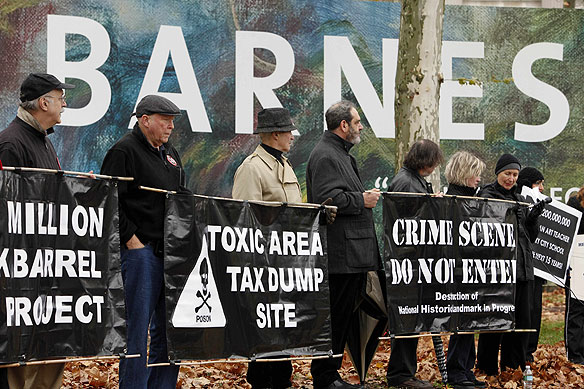 Photo credit: Matt Rourke, The Associated Press
www.barnesfriends.org
---
Friends of the Barnes Foundation Steering Committee: Sandra Gross Bressler, Hope Broker, Sidney Gecker, Nancy Herman, Walter Herman, Allan Hunter, Suzanne Hunter, Costa Rodriguez, Barbara B. Rosin, Evelyn Yaari
Advisory Board: Julian Bond, Richard Feigen, Tom Freudenheim, Julia Bissel Leisenring, Hyman Myers, FAIA, Denise Scott Brown, RIBA, Int., FRIBA
Tel. 610-864-6483
barnesfriends@comcast.net
www.barnesfriends.org
We want to thank Benjamin Everett, of Honolulu, Hawaii for the Talking Card Players and photographer Philip Lustig of Doylestown, Pennsylvania for the photograph of attorney Sam Stretton.